I googled Tony Jenkins, the cartoonist who drew the racist Globe & Mail cartoon I commented on earlier. It turns out this isn't the first time Jenkins has been a racist. In 1994, Jenkins drew, and the Globe & Mail published, the following: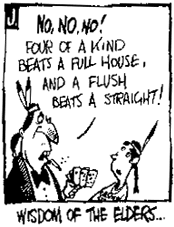 Does the racism in this cartoon need to be elaborated upon? Does anyone have to break this down?
Tony Jenkins, the cartoonist, defended his work, saying it wasn't racist but based on fact or real life. He said the inspiration from the work came from a story about the Kahnawake community's rejection of a casino project. There are about 60 bands waiting in the wings to get into gaming.

Natives are into smoking, drinking and now gambling, Jenkins said. At one time, Elders would pass on information about hunting and trapping. Now the knowledge that will be passed down will be about gambling, the cartoonist said.

Jenkins attempts to take the political issues of the day and make people laugh and think. It's one man's opinion, and is expected to be taken with a grain of salt, he said. The intent wasn't to mock, but to shed light on a different viewpoint.

Globe and Mail Associate Editor Sarah Murdoch concurred. Racism is not allowed in the paper, but 'fair comment' is and Jenkins is given a lot of latitude, she said.
"If we thought it was hateful it wouldn't be allowed," Murdoch said.
So there you have it: If the Globe & Mail's editor doesn't think it's hateful, it isn't. If the Globe & Mail's editor doesn't think it's racist, it isn't. If the Globe & Mail publishes some vituperative, base, racist content, well, it isn't.
We see here how deep Jenkins's racism is, and how entrenched racism is in Globe's editorial decisions.
del.icio.us this!