nestea consumption reaches all-time high …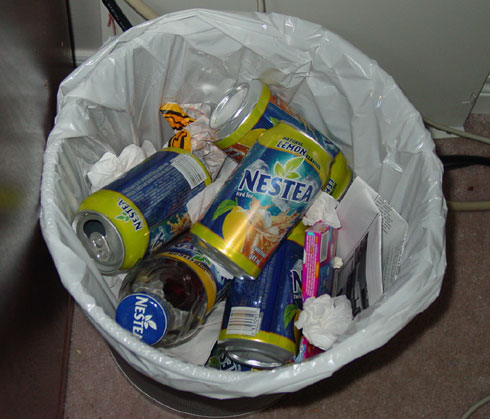 del.icio.us this!
7 Responses so far
wow, now my curiousity about what's in your trash can has been relieved. =) that IS a lot of nestea.

Yiyaaaaa! Nestea: take the plunge. Never mind that Nestea is nasty.

JDizzle said,

You know what Nestea does? It turns you into a communist. One day, you're feeling great as you buy a happy meal and use a Microsoft product (both can be done at the same time) but the next thing you know, the idea of socialism and equally distributing wealth among the workers strikes you as a good idea.

It happened to a guy I know. Well, knew. He's dead now.

haha..nice blog. and nice cartoons..keep it up, man…and too much nestea means…well..too much nestea.

in response to the fellow commentator jdizzle, pray tell the link between nestea and communism.;)

one would think that if you're already buying microsoft, you're well on your way towards becoming a commie:P

JDizzle said,

Uh… I lost the link. In a volcano.

is that why i became quasi-socialist?

damn you nestea!

give me back my big macs and my innocence!

Nestea said,

Never! You are a comrade now!